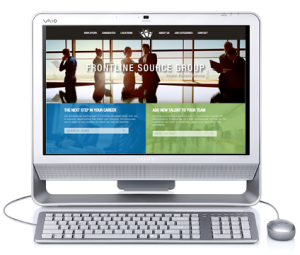 June 4, 2015- I'd like to invite everyone to visit our new website, located at https://frontlinesourcegroup.com. The site has been designed to provide employers and job seekers a very user-friendly experience with improved functionality and navigation throughout.
We are so pleased with the redesign and rebranding of our website. We are confident that clients and job candidates will be able to quickly find the information they need and are able to effortlessly find how to contact us.
The newly redesigned site offers easy access for employers to gain a full understanding of the services offered by Frontline, as well as their processes, recent company news and a live chat feature to efficiently answer questions. For job seekers, they are able to search open positions based on their industry or location and also submit their resume into Frontline's Talent Network. Candidates are also able to view information about the processes and benefits offered and have access to the live chat to get their questions quickly answered.
Upon navigating throughout the site, users will also be able to view each of the firm's local branch information, client testimonials, community affiliations, and have the opportunity to join Frontline's email list.
Please let us know what you think of the new site!
More Info: Click here